Events
Join me at events where I share insights about innovation, social entrepreneurship, behavioral science, marketing and more. Below is a snippet from a talk where I share the special ingredients that create a social entrepreneur:


In almost all my book talks about Rippling, someone invariably asks me if I can predict what makes someone a social entrepreneur. That is the exact question I have tried to answer as I researched social entrepreneurs in Rippling. And though it's certainly not an exact science, there are a few characteristics that seem to comprise a life cycle that is fairly consistent among those who devote their lives to changing the lives of others.

For each of the social entrepreneurs in Rippling, there was an experience in their past that triggered their involvement in solving a particular social problem in their present. I call this the "stickiness of past experiences". The problem seemed to seek them out and pick them by virtue of their past experiences or relationships – an injustice they witnessed years ago, something they personally experienced, someone they knew who was struggling with being differently abled. This relevant connection to their past then fueled their passion and relentless drive to find a sustainable solution so that others would not have to experience the same social problem again.

Their strength of purpose allows inspiration to replace fear with action. Their sensitivity to community inclusion allows others who believe in their innovation to become changemakers themselves. When stickiness of past experiences and the qualities and characteristics are combined – a social entrepreneur is born.


Upcoming



The Museum of Memory and Tolerance, Mexico City, Mexico. April 19, 2017. More details to come
China Social Enterprise and Investment Forum (CSEIF) Annual Conference, Beijing June 2016.

Hongzhi Cafe ,Galaxy SOHO, Biejing, June 2016

Tshinghua University, Beijing, June 2016

Shanghai Impact Hub, July 2016

Closing Keynote, ID2 Israel, Caesarea, Israel, September 2015

Keynote, Change Greece Summit, Athens Greece, April 2015

WOBI ( World of Business Ideas) on Entrepreneurship
Guest Keynote, Guadalajara, Mexico
Oct. 2014
Leading Social Innovation: Models for Sustainable Impact
Kravis Leadership Institute, Clairemont McKenna College, CA
February 28, 2014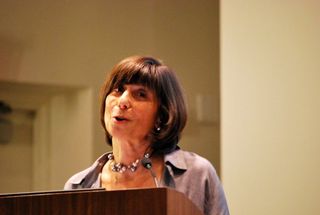 Women in Entrepreneurship: Challenging Assumptions and Transforming Communities
Google for Entrepreneurs and United Women in Business
Washington DC, June 2013

Framework Change: Re-Examining Your Personal Theory of Change
Skoll World Forum
Oxford, UK, April 2013

INSEAD Business School
Fontainebleau, France, April 2013

Book Talk at The Ivy Bookshop
How can we address the critical challenges that threaten to destroy the foundations of our society and planet in these increasingly turbulent times?
Baltimore, Maryland, March 12, 2013

Kaist University, MBA program and Yonsei University, Social Enterprise Network and The HUB Seoul
Seoul, Korea, March 2013

Wits University and Gordon Institute of Business Science (GIBS)
Johannesburg, South Africa, Feb. 2013