Welcome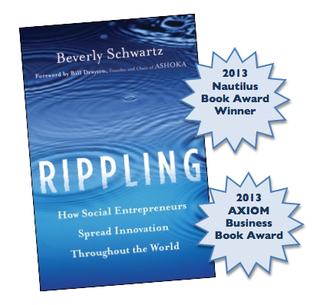 My joy in sharing the stories of the exceptional changemakers I chose to include in the book, is only exceeded by my delight (and priviledge) in getting to know them. After reading "Rippling", I hope you too will be as delighted to make their acquaintence.

There are 18 stories in the book that illustrate social entrepreneurship at it's finest. Just like business entrepreneurs, the people in those stories have an innovative idea and are willing to take either a personal or professional risk (or both) to implement it. But unlike the profit making goal of an entrepreneur, a social entrepreneur's primary mission is to address the root cause of a social problem and develop new systems and patterns that improve society. Beyond the social entrepreneurs profiled in the book, the unseen and next-generation changemakers, who are influenced by and often work along side with the social entrepreneurs, are in many ways the champions of the book. Everyday people who - no matter what culture they live in or what socioeconomic group they belong to - are trying to make a better life for themselves, their families, their neighbors and their communities. Their efforts are "rippling" outwards and creating spheres of influence that become far greater than anything they could accomplish alone.

I am a contributing writer for several online news sources and magazine publications (such as Forbes, Huffington Post, CNN, RealLeaders) as seen here. Additionally, I frequently present and give interviews on the field of innovation and social entrepreneurship.

Beverly Schwartz: " Rippling: How Social Entrepreneurs Spread Innovation" | Talks at Google


Thanks for visiting and a very hearty welcome to my website!